Français
Procreate est plein de promesses
l'appli est facile d'approche. Il suffit d'ouvrir un tuto pour apprendre, comprendre et l'expérimenter. Jamais je ne me suis sentie, sur écran, connectée à mon expérience première du dessin d'enfance. On est au plus proche du dessin sur papier avec tous les avantages et les opportunités des applications numériques.
Il s'agit toujours d'un écran/ipad , ne plus faire passer des heures et des jours face à l'ordinateur est une bonne nouvelle pour moi. Voilà l'opportunité de dessiner sur écran assise en tailleur sur le sol, coincée entre deux coussins ou à l' ombre d' un arbre.
Si je devais retenir une seule qualité, une action fétiche de cet outil, ce serait celle de peindre. Les 'brushes' du 'pack' procreate sont déjà variées et magnifiques (émerveillement quand tu nous tiens!). Il est, de plus, facile de s'en fabriquer ou d'en télécharger d'autres, elles imitent à la perfection les pinceaux et les peintures que l'on connaît.
Ayant, ces dernières années, été occupée (illustrations du livre "Luno, à paraître) avec photoshop, où mes dessins scannés ont eu tendance à disparaître sous les juxtapositions de textures. C'était un choix et une méthode qui me convenaient jusqu'à présent, mais je m'étais, ce faisant, éloignée du geste du crayonné et/ou celui de la peinture. Tout est revenu soudainement, avec cette application: voilà mon émerveillement. je n'avais pas mesuré combien cela m' avait manqué.
Voici le portrait du marin qui existe en plusieurs versions ( V1 – V2) dont un GIF (autre petite pépite de procreate: l' "animation assist" ou possibilité de créer un mouvement avec quelques séquences.
J'ai choisi de faire entrer le petit poisson vert dans l'oreille du monsieur. La tête devient un tunnel… ou le poisson devient une pensée qui passe par la tête 🙂
J'essaie de peindre avec le moins de "layers"possible, pour garder cette effet " tradition" ;-). Même si , je le reconnais, c est quand meme très pratique, une barbe amovible!
English
Procreate is full of promesses
All you have to do is to open a tutorial to learn, understand and experiment your own way to draw with this great tool. I haven't felt so connected to my experience of drawing from childhood for a long time. It feels as close as possible to drawing on paper with all the advantages and opportunities of digital applications.
It's a screen but still, not having to face the computer screen for hours and days is a good news for me. It is the opportunity of drawing pleasantly, in a cross-legged position on the floor, wedged between two cushions or in the shade of a tree.
If I had to retain one quality only about this tool, it would be that of painting. The brushes in the procreate pack are already varied and beautiful and it's easy to make or download others, they perfectly render the brushes and paints effect we know. A pure graphic happiness!
In recent years, I have been busy (illustrations for the forthcoming book "Luno, ) with photoshop. My scanned drawings tended to disappear under the juxtapositions of textures. It was a choice and a method that suited me until now, but in doing so I moved away from the gesture of sketching and / or painting. All that came back suddenly, with this application, I did not realise I missed it so much until now.
Here is the portrait of the sailor which exists in several versions (V1 – V2) including a GIF. I chose to direct the little green fish toward his ears. The head becomes a tunnel or the fish becomes a thought that crossed his mind 🙂
I tried to paint with as few layers as possible, to keep that "traditional" effect. but I have to admit that a removable beard it practical!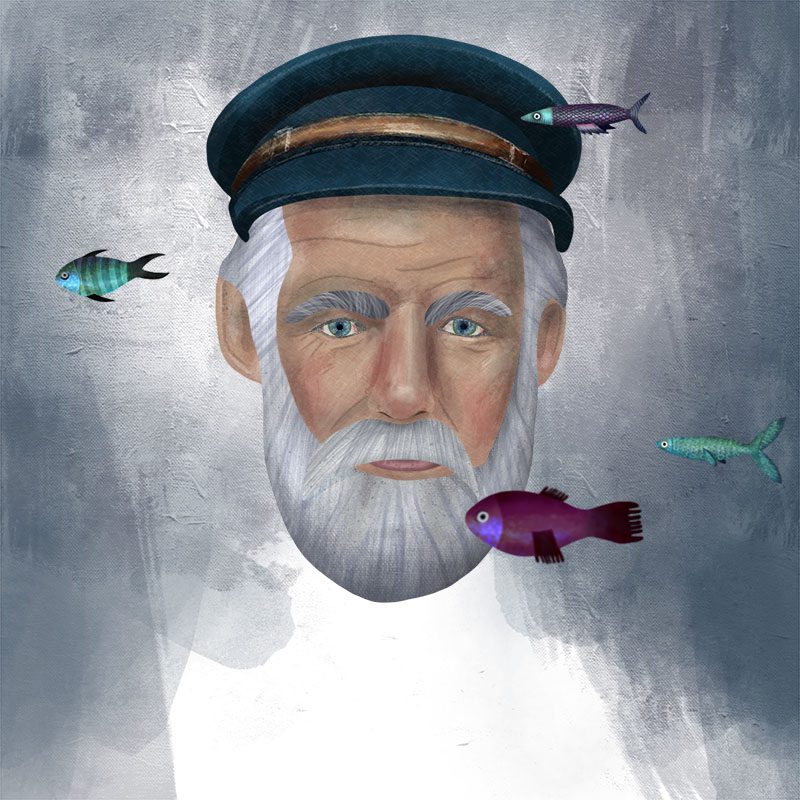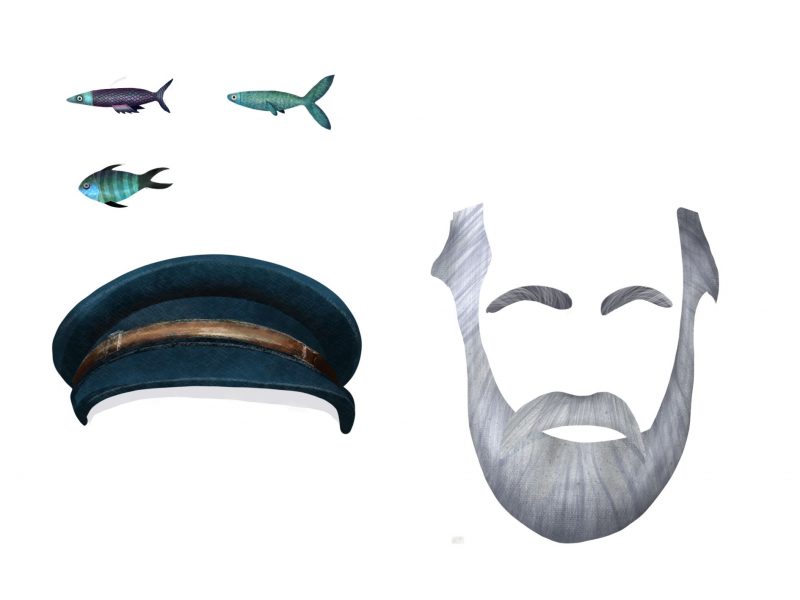 Pour ce portrait, l'image d'inspiration (aucune recherche de reproduction) est une photo en noir et banc du pêcheur anglais Walter "Catty Allen photographié par Olive Edisen (1910). Cette photo a été colorisée par le photographe Mario hunger. La collection de son travail de colorisation est ici.
Mon objectif (pas tout a fait atteint ) était de m'approcher du grain et la simplicité des traits d'un illustrateur dont j aime énormément le travailM Tristan Gion.