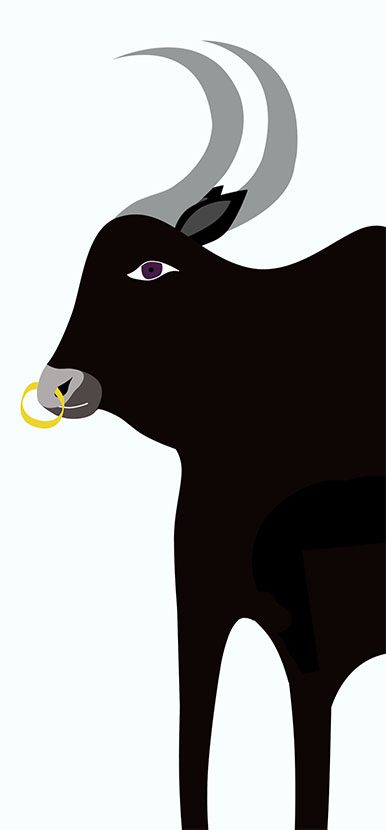 (ENGL)
Here is a cow I drew.
"She" is very different from the bull we saw in Saint Remy de Provence last November for the Feria- (Such a beautiful touristic place, by the way!).
We happened to stay there, the week-end the municipality would free Bulls in the streets for the Feria. Since we were on the spot, we had a look at it – Let's say that was the first and the last time!
On the one hand we could feel very strongly that the all event was very deeply rooted within the local culture. People enjoyed it so much! May be because of the sense of togetherness produced by such a gathering. On the other hand, as a result of this cultural dimension, nobody seems to question the ritual, there was no room for it. The Bulls were obviously suffering, some of them were even crying.
It was not a Corrida, they did not kill the animal, lucky Bull and lucky us! – after his run within the closed street, the animal went up into the truck, and back home.
My cow was not inspired by the Ferria but I, somehow ,connected the two of them – It might be the black color…
My cow is quite relax and busy chatting with a Koï carp.
I made a print called "Madame" out of it.
(FR)
J'ai dessiné une vache
Elle est très différente des taureaux que nous avons vu à Saint Remi de Provence en Novembre (soit dit en passant c'est un superbe endroit)!
Nous nous trouvions sur place le jour du lâchage des taureaux dans les rues – pourquoi ne pas y jeter un coup d'oeil? – d'autant que l'atmosphère était plutôt à la fête ce jour là.
Ce sera notre première et dernière fois.
D'un côté, on pouvait ressentir que l'événement était très profondément encré dans la culture locale. Les gens s'amusaient. Il y avait une atmosphère de fêtes avec la mise en place des barrières, les affichettes un peu partout dans les rues, la musique espagnole…etc. Une dame à nos côté, nous a expliqué avec enthousiasme et convivialité ce qui allait se passer à la venue des taureaux. L'aspect traditionnel de l'événement réveillait une sorte de joie d'être ensemble dans la répétitions de gestes, de sons et d'odeurs.
D'un autre côté, la dimension rituelle de l'événement semblait prévenir tout questionnement, toute remise en cause. Par exemple, alorsqu'une personne s'inquiétait de la présence de jeunes enfants dans l'espace arène/rue, elle s'estentendu répondre
"Mais non, laisse faire, moi aussi quand j'était petit je faisait ça!"
Les taureaux souffraient (je n'ai pas mis la pire des photos où le taureau dérape pitoyablement sur le goudron), on l'entendait pleurer.
Heureusement pour le taureau, et dans une moindre dimension pour nous, il ne s'agissait pas d'une Corrida. Après son tour de rue, essoufflé de courir derrière des pré-adolescents et des jeunes hommes qui le sollicitaient de tous les cotés, le taureau rentrait dans son camion et "Au suivant!"
Ma vache n'est pas inspirée de cette Feria mais en postant l'image sur le site, je me suis souvenue de ces taureaux aussi noirs que ma vache avec une lueur bien différente dans le regard puisque cette dernière est en conversation animée avec une carpe Koï.
J'en ai fait un poster qui s'appelle Madame.