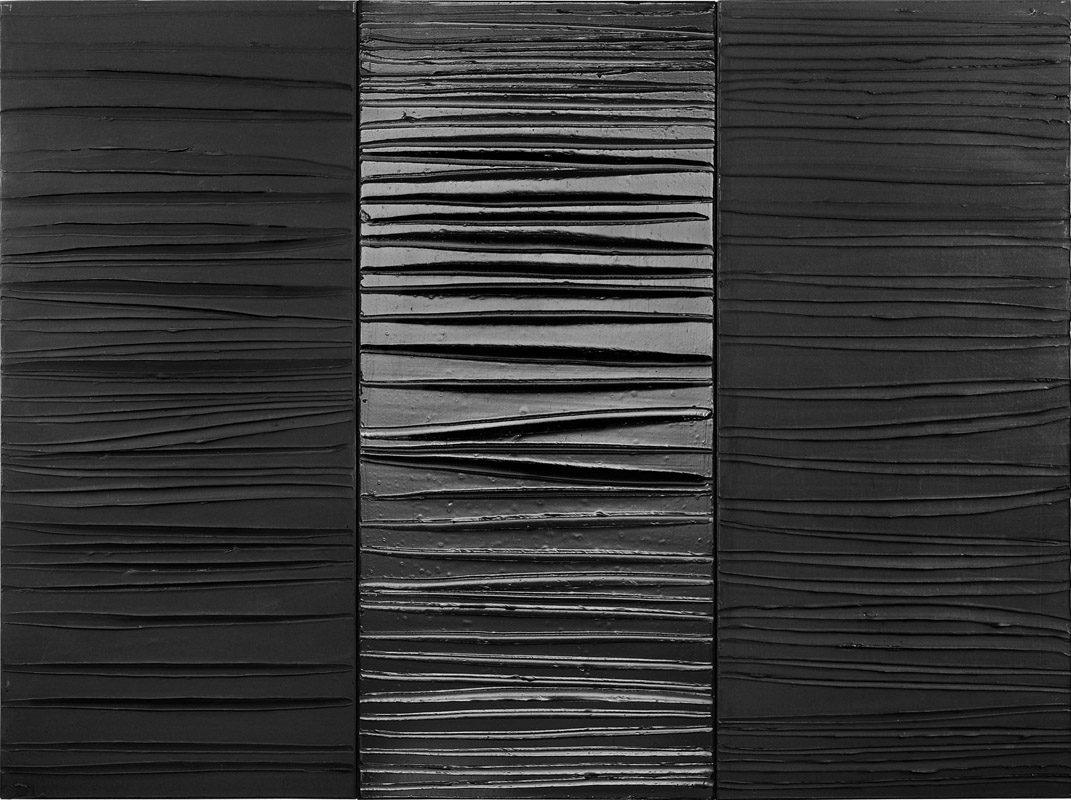 Pierre Soulage in Montpellier?
(ENGL) Born in Rodez  in 1919, Soulages is also known as "the painter of black," owing to his interest in the colour "both as a colour and a non-colour. When light is reflected on black, it transforms and transmutes it. It opens a mental field all its own." He sees light as a work material, striations of the black surface of his paintings enable him to reflect light, allowing the black to come out of darkness and into brightness, thus becoming a luminous colour.
In 2007, the Musée Fabre of Montpellier devoted an entire room to Soulages, presenting his donation to the city. This donation includes twenty paintings dating from 1951 to 2006, among which are major works from the 1960s, two large plus-black works from the 1970s, and several largepolyptychs
*
Les débuts de l'outrenoir?
(FR) "En janvier 1979, Soulages en travaillant sur un tableau ajoute, retire du noir pendant des heures. Ne sachant plus quoi faire, il quitte l'atelier, désemparé. Lorsqu'il y revient deux heures plus tard : « Le noir avait tout envahi, à tel point que c'était comme s'il n'existait plus ». Cette expérience marque un tournant dans son travail. La même année, il expose au Centre Georges-Pompidou ses premières peintures monopigmentaires, fondées sur la réflexion de la lumière sur les états de surface du noir, appelé plus tard « outre-noir »".
liens : "la lumière vient du noir" ( in French)  – "Pierre soulage au musée FABRE".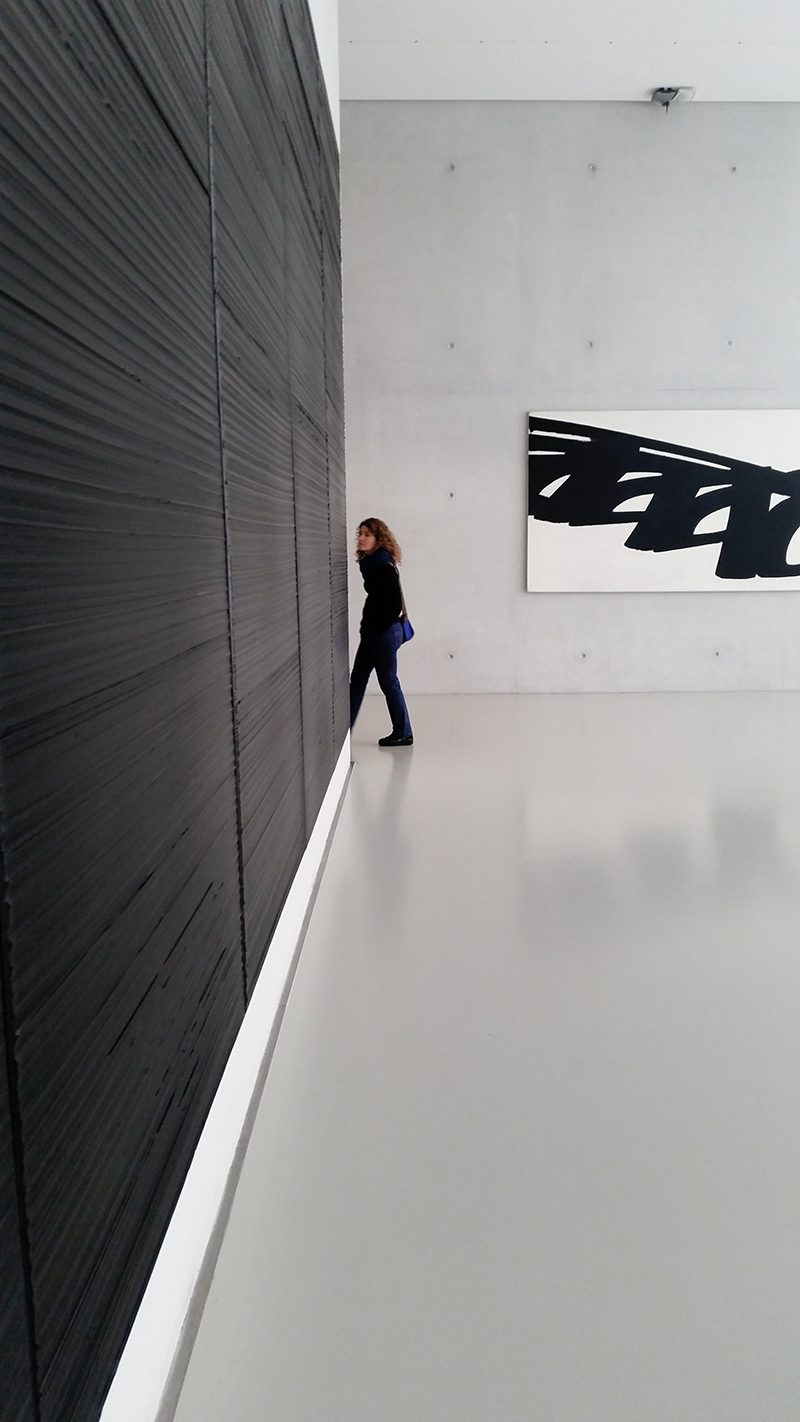 Soulages – Musee Fabre
" Ce qui est à l'œuvre, c'est la trace du geste non la recherche de forme en tant que signe, et son inscription dans l'espace de la toile ou du support ainsi que la matérialité de la peinture avec ses opacités et ses transparences. " Ce qui m'intéresse […] ce n'est pas le geste mais son incarnation picturale […] je ne comprends rien à la calligraphie, je ne suis pas un peintre gestuel "
Pierre Soulages en entretien avec Bernard Ceysson, 1976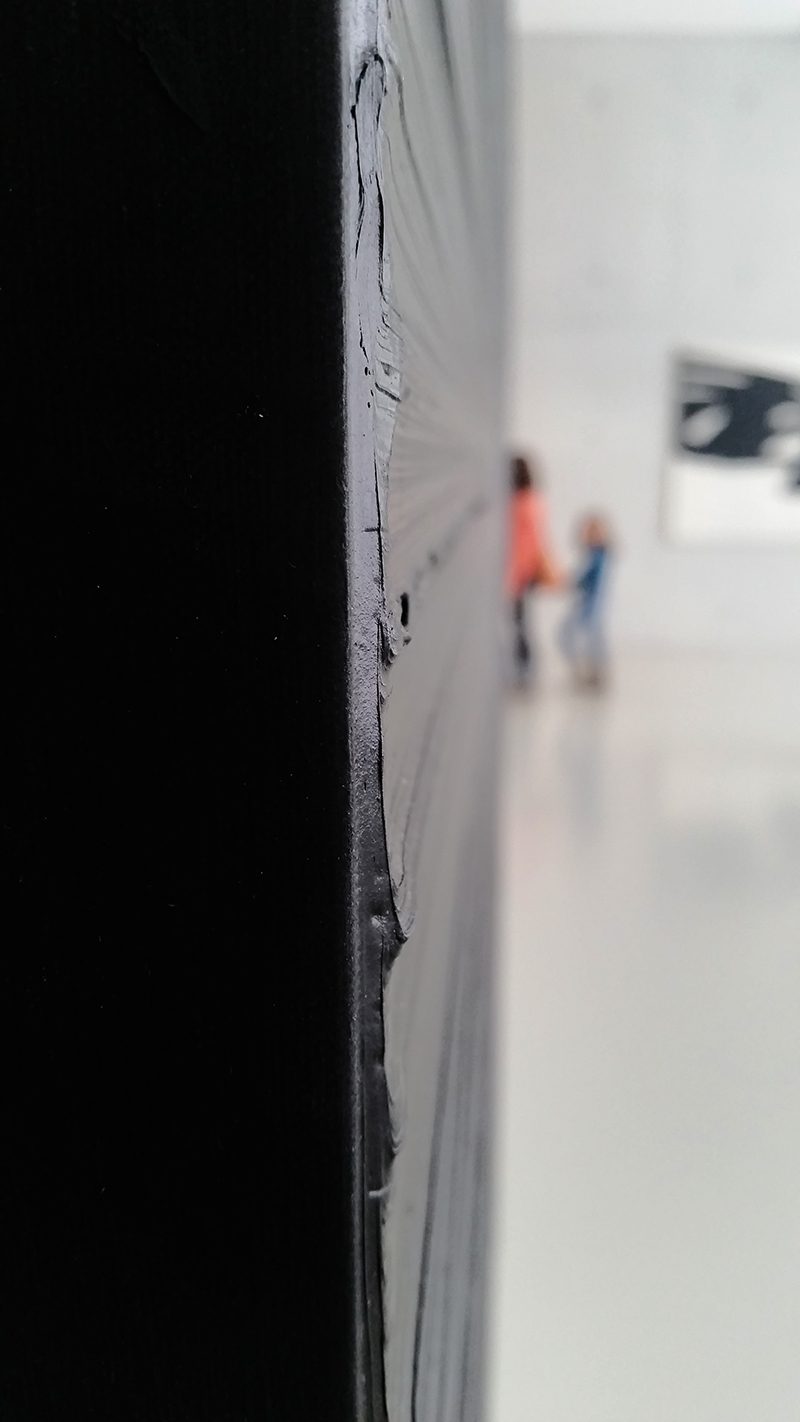 Soulages – Musee Fabre