I am a french self taught illustrator based in Ardèche (almost south of France) since 2013
I love:
– Playing with colors, photoshop and illustrator brushes, textures, doodles, making seamless patterns, design, transforming a drawing from a doodle book into a postcard , a poster or a  jewel.
–  Exploring the two way wiring between words and images.
– Making space for children 's creativity.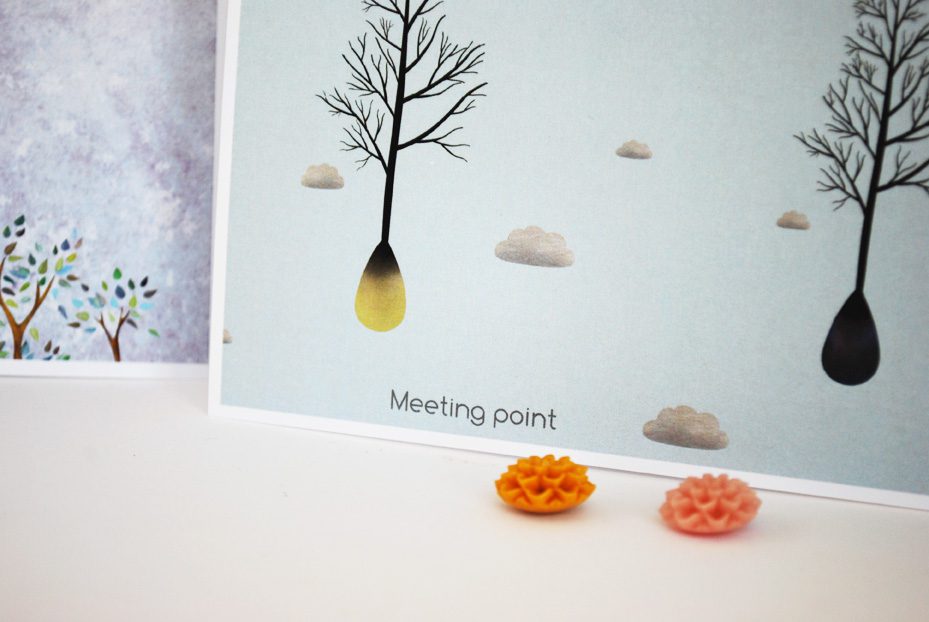 Twists and turns … before reaching the illustration world:
I  first studied Social work and worked for about 10 years in the child protection field both in France/Lyon (sauvegarde de l'enfance) and for three years in east London (the"amber project", a residential family assessment center)
I also studied Anthropology up to the master degree in Lyon including a year in Montreal/Canada (UDM)) and later on, a "master pro", in Lyon, called "humanitarian assistance and solidarities" (humanitaire et solidarités – in French)
In 2005, I moved to Israel (married a man from there 🙂 ). When I first arrived there,  I felt that none of my academic and professional background would really be useful to me. In addition I could  only use a few hebrew words at that time. 
… and I knew, by experience that, to practice a profession deeply rooted into social local life and codes in an other country and culture is pretty much like starting from scratch within our field of competencies.  I did not want that anymore. That was also the time I became a mother, it might have changes my outlook on life as well. I was at a perfect crossroad to question myself about "what I really want to do from now on"?
Following the advices of my loving surrounding, I decided to go for what I 'd always enjoyed doing, which was drawing. Drawing without really paying attention to it and  without daring to think of it as a possible job.
From there, I started to experiment styles, color, technics, asking questions and picking up some nice tutorials on the web. I somehow became a kind of self taught person (I had a good  experienced teacher next to me 😉 ). It was such a different way to learn! I experimented how to put thing into practice without being a specialist, learn from my mistakes and sometimes transform them into a positive results. 
I sold prints and jewelry both on line and on the spot, joined the local association of illustrators, mades logos and business cards…etc. I also worked at the illustration of a beautiful story called "Luno" ( Hopefully we will manage to publish it one of this days). I stopped working on it  at only a few pages from "the end", when we moved country.
After eight years, we moved to France where I had to take a temporary break from my little image factory.
Indeed, shortly after we arrived I was diagnosed with breast cancer, had 2 operations and radiotherapy – I am feeling well now 🙂 – but I found it difficult for a while to keep drawing and being efficient and productive. Motivation, inspiration and energy eventually came back with a different perspectives: less orientated toward children's world only – a bit farther from the computer screen and rather closer to the basic pen and paper materiel (although I sill love my photoshop brushes!).  Yes, To Doodle turn out to  actually be,  the best and genuine way to activate the istolar studio again.
Here I am working on my new internet site and boutique from beautiful Ardèche.
Rather that leaving my former site and starting a new one as a continuation of it, I decided to re-posts and re-organise elements from my former site (it was really old looking) – most of them without the previous text thought –  in  this way, I could get rid of the old site and reach a better sens of homogeneity that fit better where I am currently standing.
Hope you will enjoy it