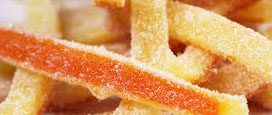 (ENGL) Every year it happens, as we can say it became a tradition at Home
(FR) Ça se passe chaque ann2e, on peut parler de tradition alors!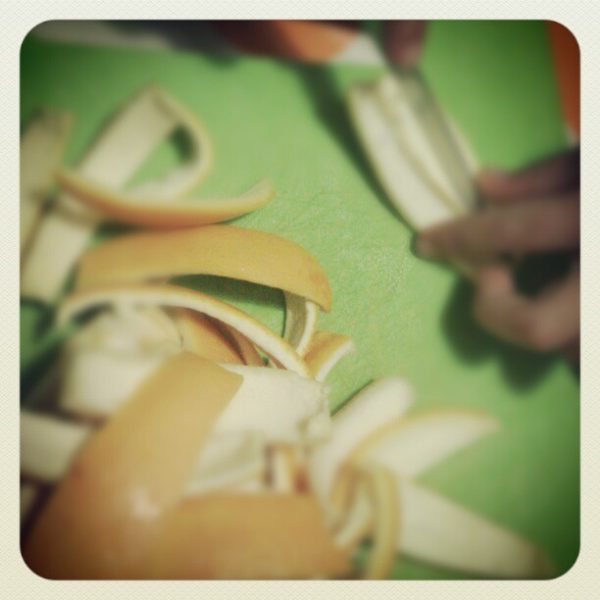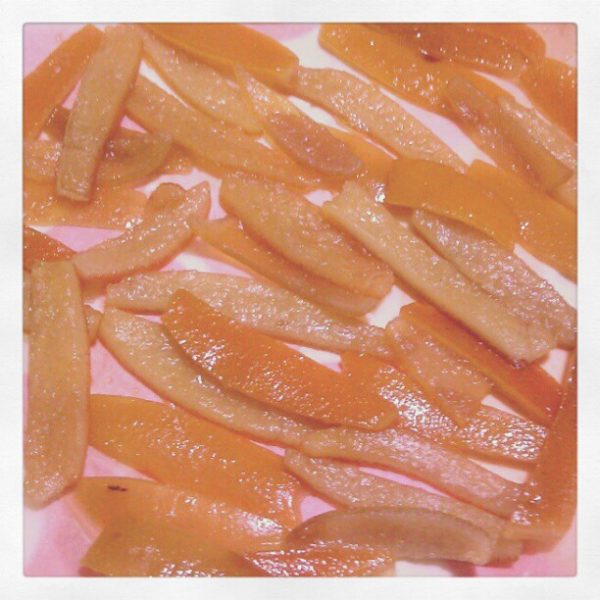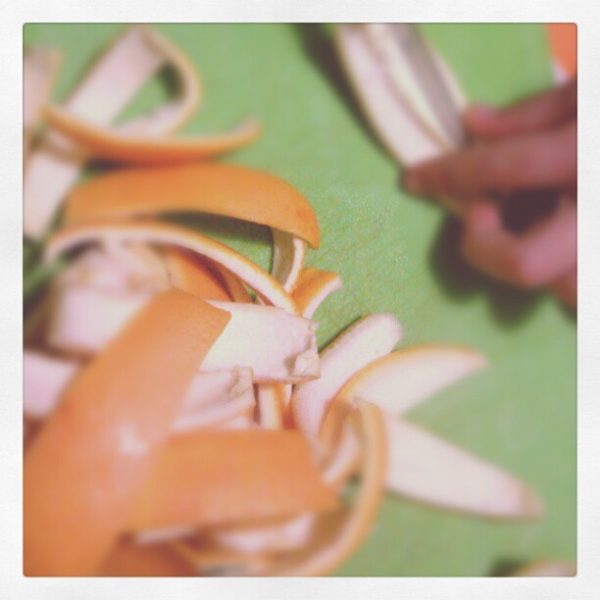 (FR)
Recette d'Orange confites
Des oranges – du sucre en poudre (= poids des écorces) – de l'eau
Brossez et lavez vos oranges.
Passez la lame d'un couteau tout autour de l'orange pour en retirer l'écorce.
Coupez l'écorce en lamelles plus ou moins larges, comme vous le souhaitez (pour faire des orangettes mieux vaut que les lamelles ne soient pas trop fines, la manipulation en sera plus facile) puis plongez-les dans une casserole d'eau froide. Portez à ébullition, coupez le feu, égouttez.
Répétez l'opération 3 fois (recouvrez de nouveau d'eau froide, portez à ébullition, égouttez et rebelote…) de manière à retirer l'amertume des écorces.
Une fois vos trois ébullitions faites, pesez vos écorces, mettez-les dans une casserole et recouvrez-les de leur poids en sucre.
Versez de l'eau froide à hauteur, placez sur feu très doux et laissez confire tout doucement…
Au bout d'une trentaine de minutes vos écorces sont devenu (un peu) translucides. Coupez le feu et laissez-les refroidir dans le sirop.
Déposez-les sur une grille pour les faire sécher.
Vous pouvez si vous le souhaitez les enrober de sucre… Ou de chocolat fondu !
source: Jujube en cuisine
(ENG)
Large oranges, 1/4 inch of top and bottom cut off – 4 cups sugar, divided – 3 cups water
Cut peel on each orange into 4 vertical segments. Remove each segment (including white pith) in 1 piece. Cut into 1/4-inch-wide strips. Cook in large pot of boiling water 15 minutes; drain, rinse, and drain again.Bring 3 cups sugar and 3 cups water to boil in medium saucepan over medium heat,
Stirring to dissolve sugar. Add peel. Return to boil. Reduce heat; simmer until peel is very soft, about 45 minutes. Drain.
Toss peel and 1 cup sugar on rimmed baking sheet, separating strips. Lift peel from sugar; transfer to sheet of foil. Let stand until coating is dry, 1 to 2 days. DO AHEAD: Wrap and freeze up to 2 months.
from Epicurious